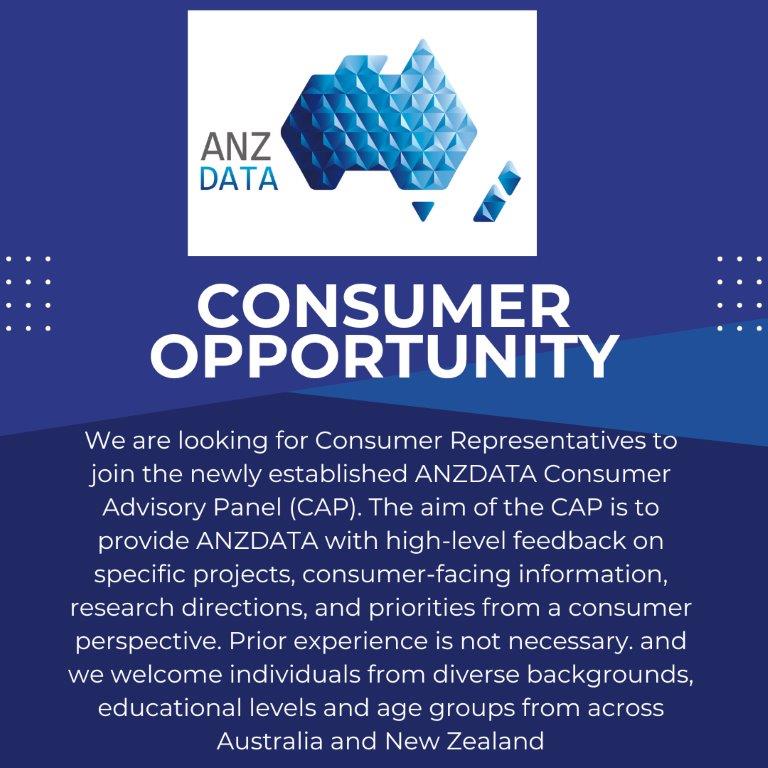 How to Respond to this EOI – To receive an application form please email Jasmin at community@anzdata.org.au

Inquiries Further information is available by emailing our Patient Engagement Officer Jasmin at community@anzdata.org.au
We are inviting applications for multiple Consumer Representatives to join the newly established Consumer Advisory Panel (CAP). The aim of the CAP is to provide ANZDATA with high-level feedback on specific projects, consumer-facing information, research directions, and priorities from a consumer perspective. The consumer representatives will provide a valuable perspective and lived experience of individuals across Australia and New Zealand who have been affected by kidney failure, are approaching or have received dialysis, have undergone a kidney transplant, or are caregivers for those with these conditions.Prior experience is not necessary. We welcome individuals from diverse backgrounds, educational levels, age groups, and varying levels of experience to apply from across Australia and New Zealand. Our organisation values diversity and inclusivity, and we believe that a range of perspectives and experiences can contribute to our success. We encourage all interested candidates to apply.
ANZDATA stands for the Australia and New Zealand Dialysis and Transplant Registry. ANZDATA is based in Adelaide, at the South Australian Health and Medical Research Institute (SAHMRI). ANZDATA collects information, or data, about children and adults receiving dialysis or transplant for kidney failure in Australia and New Zealand.

Each year, kidney units and hospitals complete a survey about patients' health and kidney failure treatment and give it to ANZDATA. The information includes patients' names, postcode, sex, ethnic background, the diseases they have and the type of kidney failure treatment they are receiving. The information is collected when a person first starts dialysis or has a kidney transplant and then every year after.
Reports
ANZDATA produces different reports about dialysis and kidney transplant with the data collected. These can tell us things such as the causes of kidney failure and how many people are having a particular type of dialysis or a kidney transplant. Some of these reports are available to the public on our website. Others are sent back to the kidney units and hospitals so they can see the health of their patients, and compared to other units and hospitals. These reports helps hospitals to know whether patients are getting good quality dialysis and transplant care. Hospitals and the health system can then identify where care can be improved. ANZDATA also produces summaries of our reports in the form of infographic sheets and short videos.
Research
ANZDATA has researchers, statisticians and clinicians who conduct research to answer important questions about the health and treatment of people with kidney failure. Data collected by ANZDATA is used in research projects to lead to changes in care and outcomes for patients with kidney failure. More about our current research projects can be found here.
"Both patients and health professionals need meaningful data to make informed decisions."
"Having access to this information could help patients make informed decisions, understand their condition better and manage their health more effectively."
"I'm very glad to know you exist and would like to help with any endeavours that make information about kidney disease more available for patients."
---